Puppies
16.09.2013
Check individual subpages for each of the puppies to learn more about each of them :). 
17.03.2013
Puppies are 18 days old - they begin to walk, play, pee without stimulation from mama and wag their tails :). They are putting on weight really nicely, most of them are over 1kg, one boy is smaller, but apart from that he's doing really great and is very agile, curious and sweet puppy :). We started thinking about the names, so the first boy is called BORN STREETSMART Extreme Braveheart, big black girl is called BAZOOKA and little merle boy is called BARBARIAN FIGHTER :). Merle girl is a strong candidate for being called BAZINGA! 
29.06.2013
They are here!
Brava is perfect (or pyrfect) as usual - she waited for me to come home from seminar in Prague and then she actually picked a moment when we were both home and - which proved important - there was no traffic :). She started pushing at 5 a.m., after some time a baloon of fluid appeared, but nothing more although she pushed for more than two hours. So finally we decided to go to the vet. In the car she started pushing again, and finally a head in a bubble appeared, but she was already tired and even napped for couple of minutes. Then we arrived at the vet and the first puppy was miraculously born in the car just outside the vet's office :). It was a boy, dark merle, so at first we thought he was black. Then we went into vet's office and the others quickly followed - 2 more pups (black girl and merle boy) were born in next 10 minutes :). Then she paused for a little while and gave birth to another three pups (two girls and one boy). So altogether we have 3 boys and 3 girls (pyrfect!), 3 merle and 3 black. 
Everybody is fine :).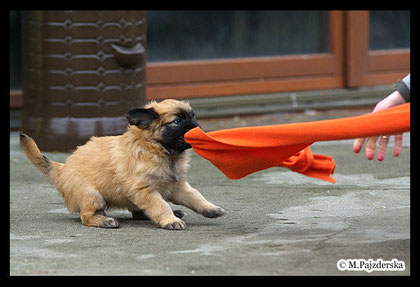 At the end of April, Brava was mated to BOMBADIL BABOU du Mourioche. We expect puppies at the end of June.
The waiting list for puppies is full, although it has changed so many times that you never know - so if you're interested, contact us.