BRIE STREETSMART Extreme Braveheart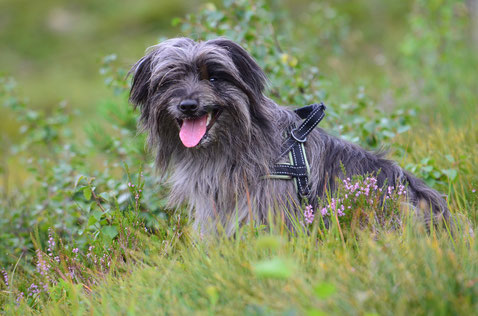 DOB: 29.06.2013
Weight:
at birth: 300g
at 3 weeks: 1,2 kg
at 6 weeks: 2,7 kg
at 8,5 weeks: 4,15 kg
at 11,5 weeks: 5,35 kg
at 16 months: 12 kg
Height: 42,5 cm
HD B ED 0/0
Colour: blue merle
Brie was born on the street outside the vet's office, where we drove because of lack of progress with Brava's labour - seems that the trip helped her ;). Because of that, he's called Streetsmart :). He's a special little boy with lovely dark merle colour.
My puppy notes:
1.08.2013 (almost 5 weeks) - "philosopher", very stoical puppy, accepts everything, really nice strong tug
7.08.2013 (5,5 weeks) - submissive to other dogs, plays really nicely, seems a little less active than other puppies, retrieves a toy, a little cautious in new environment at first, but then investigates
1.09.2013 (9 weeks) - suddenly very active :), plays really well, retrieves and tugs really strongly, generally very brave and open in new environment but feels uncomfortable near busy streets and is distracted by passing cars. Very nice in shaping sessions - has good appetite and offers lots of behaviours. 
15.09.2013 (11 weeks) - still very very active and really resembling his uncle Evo :). Naughty, very active puppy, destroying everything within reach, excellent play drive, plays anywhere and with everybody, still a little wary at streets with huge traffic (less traffic is ok). Really friendly with humans, a little bit histerical with strange dogs. 
Update on 08.11.2014
Brie lives with Siw in Norway and he's fantastic dog: very enthusiastic, lots of drive, very beautiful (he is very succesful in dog shows as well and soon will be champion of Norway, Sweden and Denmark). He knows lots of tricks, is really eager beaver when work is concerned, very friendly with people as well.