BAZINGA! BABOU Extreme Braveheart - "Babou"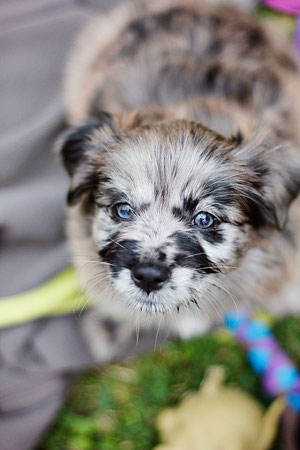 DOB: 29.06.2013
Weight:
at birth: 295 g
at 3 weeks: 1,12 kg
at 6 weeks: 2,4 kg
at 16 months: 8 kg
Height: 41,5 cm
Colour: blue merle
Owner: Simone Ullrich-Pansi, Austria
10.11.2014
Still awesome and very pretty :). She is also very promising agility dog, crazy, barking and FAST already :). 
Very special girl. When we were coming back home from the vet after the puppies were born, she managed to get out of the box, crawl behind my back and suddenly appeared on my other side (Bazinga!). Then of course she was the first one to get out of the whelping box (Bazinga!). She was always on the move. After the puppies opened their eyes, we thought here eyes were brown as with the others - and then one day outside we looked and they were saphire blue (Bazinga!). She was generally everybody's favourite because of her unique looks. She was the most sensitive of the puppies, yet very playful and curious. 
My puppy notes:
19.07.2013 - protested when I picked her, but calmed down after a while. She plays with other puppies. 
20.07.2013 - Bazinga! tugged on a toy!
1.08.2013 - Bazinga! is a little bit more sensitive, especially to temperature, very active, doesn't tug that hard, a little bit less social
7.08.2013 - she plays better now and does not seem as sensitive anymore, but a little bit independent.
08.08.2013 On a walk she follows me nicely, investigates new room curiously.