About Olga Kwiecień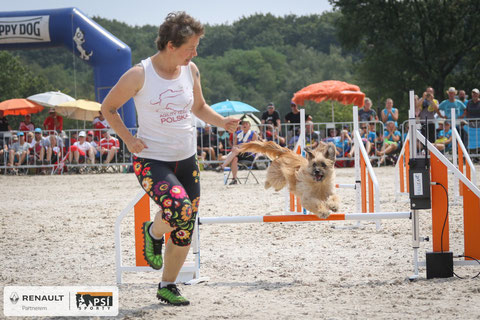 Olga is an experienced agility trainer and instructor, competing in all height categories and having international succeses, and teaching seminars both in Poland and abroad (so far, Czech Republic, Slovakia, Denmark, Germany, Austria, Switzerland, France, Spain, United Kingdom, Sweden, Norway, Finland, Estonia, Singapore, Australia). Her biggest joy is working with different breeds and teams to help them have as much fun as possible and reach their full potential.
Olga's biggest achievements:
With her first dog, cocker spaniel Sunday - participated 6 times in Agility World Championship (2004, 2006, 2008, 2009, 2010, 2011), Polish Agility Champion 2010.
With Pyrenean Shepherd Brava: has participated 6 times in AWC (2011, 2012, 2014, 2015, 2016, 2017), 4th. place individual medium combined AWC 2011 Lievin, 2nd place in individual agility medium AWC 2012 Liberec, 2014 gold medal in team jumping medium AWC 2014 Luxembourg, 2015 2nd vice champion European Open 2015 Rieden, bronze medal in team medium jumping AWC 2015 Bologna, 3rd place in agility individual medium AWC 2016 Zaragoza, 4th place individual medium combined AWC 2017 Liberec, vice champion European Open 2018 Ebreichsdorf.
With Pyrenean Shepherd Brego, has participated 3 times in European Open in large category (2015, 2016, 2017), team World Champion 2018 Liberec.
With her youngest working cocker spaniel Mojo: qualified for EO 2018 and 2019, qualified for EO 2019 final, qualified for AWC 2019 in Turku, winner of International Cocker Spaniel Championship 2019 in Germany, winner of Slovenian Open 2021 and hopefully more to come :D.
If you're interested in training with Olga or organising a seminar with her - please contact her through e-mail olga.maniewska @ gmail.com (remove the spaces when copying the address).