MIRANDA ze Sztormowej - SUNDAY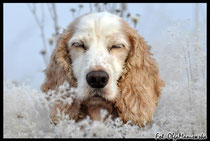 Motto: "When in doubt, do the tunnel" :). 
 18.07.2002-18.01.2016
Breed: English Cocker Spaniel
Height: 33 cm
Agility: A3
Best results (so far): Polish Agility Champion 2010, several placements from 1st to 5th in Polish Agility Cup since 2004, member of Polish agility team for World Championship in 2004, 2006, 2008, 2009, 2010, 2011 (highest placement 12th individual small in 2010, 10th agility individual small in 2008, 5th team agility small in 2011)
About Sunday: 
The first one. The Princess. Loves food, chasing pheasants, food, squaky balls, food, sleeping on the pillows and oh, did I mention food? She has endless energy, is always in good mood, loves everybody (especially when they have food). She proved beyond any doubts that cockers are NOT stupid at all, passed her obedience exams at 10 month of age with flying colours, is one of the most succesful agility dogs in Poland and I guess one of the most succesful cockers on the planet :). She's the sweetest dog ever, even when she steals food or disappears for several minutes to chase pheasants :). Sunday is not afraid of anything, she doesn't even notice many things that make other dogs scared and some scary things just make her excited (like fireworks: "Oh my, someone's shooting! Must be pheasants, let's get closer and see!"). As most cockers, she is VERY vocal and gets louder every year. She decided she doesn't really have time for getting old :).