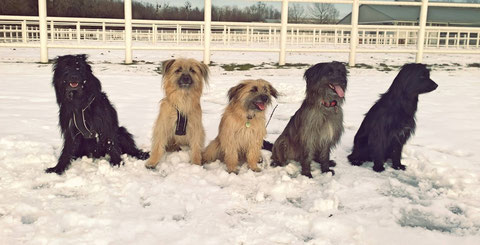 So, first competition of the year was Magna Racino (yeah, we like to start big... ;)). It was great as usual, great venue, some awesome courses which gave us lots of new ideas - Sandra Deidda was as usually a star and lots of good competitors. It was quite succesful for us as well, Brava was on a podium a couple of times, Evo had a bit of bad luck with the bars, but qualified to the final as well and Brego was my little hero, being in the first 15 out of 270 large dogs and securing a place in the finals easily. It's so cool to run him now, we reached the stage when I can trust him more and he is a smart boy, always trying his best :). 
We had bad luck in the finals with really stupid mistakes - but both of us had quite a bad cold so weren't really focused.
We also met with Zookie and Brie and I'm still very proud of Brava's puppies, they are just really awesome dogs, not only in agility, but also in everyday life which is even more important. Zookie is still perfect clone of Brava, just bigger and in black, but she makes the same faces and is the same type of good girl, whereas Brie is more like Evo and always trying what he can get away with, but being so cute when doing this that you can't even get mad at him ;). 
Flaszek was running in spot of Kaira, so unofficially, but he was also enjoying himself and even barking a little on a course :). It's always so cool to see him being more and more relaxed in various situations :). 
So enough of talking, time for some videos now :)
Brego Friday's agility -13th place
Brava's Friday's agility 1st place
Brava's Saturday agility - 2nd place
Brego's Saturday agility - not the best choice of lines now that I see the video, but I still enjoyed the run
Brego's Saturday jumping - that's my favourite run with him :) again 13th place or sth like that
Evo's saturday jumping securing him place in the final
Another great part of the competition was that we had really nice hotel with great Greek restaurant this time - oh, the food :D. Definetely one of the best pleasures in life :) especially in a good company which we also had :).