We spent New Year's Eve and a couple of next days in Rieden in great company. We came there for B.A.C.K. competition which I think is one of the coolest trials in Europe - super surface, lots of great competitors, 3 rings. On January the 1st we had a little training in the hall, all our dogs did great :). On 2.01.2015 the competition started and it was really meaningful for all of us. 
First of all, it was my real debut with Brego - he competed once before in Polish zero class, but BACK was his first "adult" competition on full height and with all the obstacles. I was really excited and looking forward to that. I think of first trials as an investment in future, so I wanted him to have fun as much as possible, but also was hoping for nice contacts, sit-stays on the startline and maybe getting one nice clean run. The courses in A1 were mostly really nice, fast and fluent, with straight approaches to contacts and I was really happy for that, because I want him to get some confidence before running on more technical courses. Brego did great, even better than I expected: all his dogwalks were just perfect, all see-saws really nice as well, he held all the sit-says and just missed one A-frame (but that looked weird and not typical of him at all, so maybe he slipped or something like that). He had 3 clean runs, all within the best 10% (not bad for probably the smallest and the youngest competitor in his class), 2 really nice eliminations (just one additional jump each time ;)) and one really nice run with missed A-frame contact. I'm really really proud of him <3.
Another great thing was Flaszek competing in the same class as Brego. When we were at BACK two years ago (competing with just Evo and Brava), Flaszek was too scared to work in the preparation ring and not even close to start competing. A year later he debuted in our zero class and in the beginning was easily distracted with people being too close to the ring and various other things. This year he was PULLING on the leash to get on the preparation ring, wagging his tail high, because he knew he would be running agility there <3. He's still not the fastest dog out there, but he is enjoying himself and that' makes us both really happy :). 
As for Brava, it was a little bit weird weekend. Perhaps my decision to start running with 2 dogs again at a really big competition happening at 3 rings simultaneously had some drawbacks after all ;). I think I just didn't focus on her as I do normally, and we had 5 eliminations in 7 runs, which really does not happen often for us (those were still mostly nice runs with stupid mistakes on the handler's part). But my perfect yellow doggy was great when it really mattered, so she managed to qualify to the final in last possible run (2nd place in jumping 3) and then in the final she was just AMAZING and won 2nd place at BACK 2015 :) I'm really so proud of her (and a little bit of myself as well ;)).  Funny thing is, that when we were driving to BACK I said that my objectives for Brego are good contacts and some clean runs, and my objectives for Brava are qualifying for the final and having a great run there, so I can say I did it (I didn't ask for many clean runs after all :P). 
Evo had some nice clean runs as well and some nice runs with stupid mistakes (like a knocked bar, which is really not typical of him). The surface was a little bit softer than last time there and I think for Evo's style of running and jumping it was probably not the best, so he was a bit slower than normally. Anyway, he also qualified for the final and had a great run there.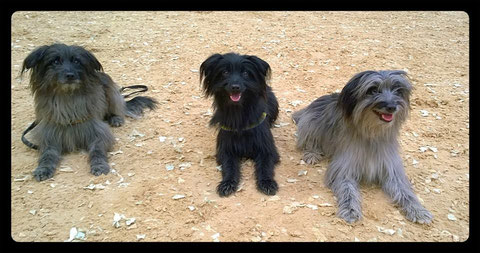 Another great thing about B.A.C.K. was meeting Laura with Zookie and Simone with Babou again :). Babou and Zookie are both awesome, weren't at the least bothered by the new environment and the crowd and both of them had some fantastic runs - Babou won her first MA1 run, then was third in jumping1 and second in another jumping, Zookie was 2nd in jumping 1 on Saturday, qualifying for the final (that's just WOW for such a young dog) and then won another jumping on Sunday, having best time of all height categories! I'm really really proud of them and their owners, so have to brag with their videos as well: