Yes, a little lag, but... ;) there were more things worth mentioning in Bydgoszcz ;). First of all, we met with Natalia and got some short obedience lessons and tips :). I'm not really serious about it, but I think a bit of cross-training is great. So far I really like Asia Hewelt's way of teaching obedience, so we did her Work Foundations (Natalia said we were pretty decent with them ;)) and I'd like to progress more, at least for fun :). 
I promise I will try to make a video with our foundations :).
Trochę obsuwa czasowa, ale co tam ;). W Bydzi było parę jeszcze rzeczy wartych wzmianki. Po pierwsze, spotkaliśmy się z Natalią, która łyknęła bakcyla obi i dała nam parę wskazówek i krótkich lekcji. Nie myślę o tym obi jakoś szalenie poważnie, ale odrobina treningu w innych dziedzinach nie zawadzi. Jak na razie bardzo mi się podoba podejście Asi Hewelt, zrobiliśmy więc jej Fundamenty Pracy (Natalia stwierdziła, że dość przyzwoicie) i chciałabym podłubać coś więcej dla zabawy :).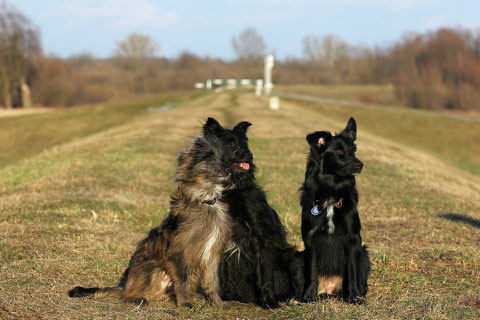 The other great thing was that we went for a nice walk with Basia and her puppy Reba. Reba is... well, can you guess what breed she is? No, not a face rase pyrshep, but an Aussie :) with lots of working lines blood in her. She is 2 weeks younger then Brego and not only beautiful, but also a really nice and delicate puppy, so Brego finally had a chance to play a bit with another puppy. Normally he doesn't - it's hard to organize it if you live in the suburbs and have 5 other dogs. So I'm really glad that he did play with her a little bit - and even more, as I got some beautiful photos. 
Druga fajna rzecz, że poszliśmy na spacer z Basią i jej szczeniakiem Rebą. Reba jest... no, nie pyrkiem face rase, tylko ozikiem :) z dużą ilością workingowej krwi w sobie. Jest jakieś dwa tygodnie młodsza od Brego i nie tylko jest śliczna, ale też bardzo miła i delikatna w zabawie, tak więc Brego wreszcie miał okazję pobawić się z innym szczeniakiem. Zazwyczaj nie miewa - ciężko to zorganizować, jak się mieszka na wsi i ma 5 innych psów. Tak więc bardzo się cieszę, że trochę się pobawili - tym bardziej, że dostałam parę pięknych zdjęć (autorstwa Basi).