This whole old year ending, new year beginning with all the pressure of "you must have immense party" and "you must be happy" and making new year's resolutions noone is going to keep is a bit forced and stupid, but actually there is one good thing about changing the date - it's a good time to look in the past and see where you are. So... time to write something about our Flaszek :). Unfortunately for various reasons I was not able to update regularly on "the Flaszek project", which of course doesn't mean we weren't doing anything :). 
This is something which really matters a lot for me. We had people asking us why on earth we got a dog that was almost a year old, was definetely large and not medium-perfect-for-agility size and was terrified of his own shadow at this stage. The honest answer is: I don't know. Roman looked at his picture and he just knew and then when Flaszek met him, Flaszek also just knew and trusted him immedietely. So destiny definetely. 
You won't get quick results with such a dog - but you learn to appreciate small succeses and understand the value of patience. Maybe you won't be able to win World Championship with such a dog or even qualify for one - but the joy you find in overcoming yet another difficulty, teaching such a dog another small thing, seeing him actually enjoy it, is maybe even greater that standing on the podium among the cheering crowd. You cannot make any shortcuts in training such a dog, so you learn how to divide each behaviour into baby steps. 
And then - after some time, maybe when the old year is coming to its end, you look back and marvel at how far you travelled. 
So here it is: Flaszek, a dog that wouldn't work anywhere at first, a dog that would be terrified of fireworks and other sounds before, a dog that needed a year to learn how to weave.... having fun on 31st of December, with the crackers banging around: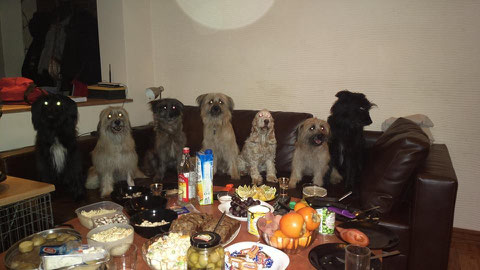 It may seem like not much, you might think there are faster dogs on the planet - but we can see him jumping out of joy when we take him for training and forgeting about the crackers the minute he sees the ball and it really makes you so happy. And we remember last New Year's Eve, when he was hiding in "his" room in darkness, terrified of the fireworks and this year he decided to keep us company at the table, even though he was a bit uncomfortable with the noise. 
And seeing all that, seeing him happy, comfortable, crazy, barking his head off because he wants his squaky ball NOW! we know that it was totally worth it and best decision possible to have him come in our lives :). 
So now, on the first day of a brand new year, we wish you that on the last day of 2014 you will look back and see how far you travelled and how much closer you are to fulfilling your dreams.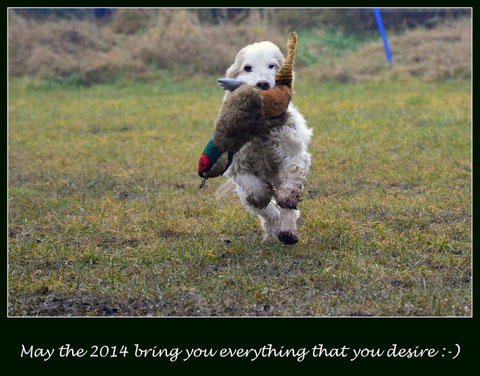 Cały ten szum z końcem starego roku, początkiem nowego, przymusem imprezowania, obowiązkiem bycia szczęśliwym w Sylwestra i robieniem noworocznych postanowień, o których się natychmiast zapomina jest dość głupawy, ale jest jedna dobra strona zmiany daty: można spojrzeć za siebie i popatrzyć, gdzie się właściwie doszło. A więc... czas napisać coś o Flaszeczku. Niestety nie miałam dość czasu, by regularnie pisać o "the Flaszek project", ale to nie znaczy, że prace zostały w którymkolwiek momencie przerwane :). 
Dla mnie to jest bardzo ważne. Ludzie pytają nas czasem, po co u diabła był nam pies, który miał już rok, który zdecydowanie jest largem a nie idealnym do agility mediumem i który bał się własnego cienia. Uczciwa odpowiedź jest taka, że nie wiadomo :). Romek zobaczył zdjęcia Flaszka i wiedział, Flaszek zobaczył Romka i też wiedział - pies bojący się wszystkich zaufał mu od pierszej chwili. Przeznaczenie znaczy. 
Nie odnosi się szybkich ani wielkich sukcesów z takim psem - za to uczy się doceniać wartość cierpliwości i świętować te małe sukcesy. Zapewne nikt z nas nie wygra z nim Mistrzostw Świata ani nawet się na nie nie zakwalifikuje - ale satysfakcja z pokonania kolejnej trudności, nauczenia go kolejnej rzeczy i patrzenia, że naprawdę jego to bawi - jest chyba większa niż radość płynąca ze stania na pudle wśród oklaskujących tłumów ;). Nie da się pójść w szkoleniu takiego psa na skróty, więc człowiek uczy się dzielić wszystko na naprawdę malutkie kroczki.
A potem - może właśnie na koniec starego roku, patrzy się za siebie i nie można się nadziwić, jak daleko się zaszło. 
A zatem powyżej filmik - Flaszek na treningu 31 grudnia. Pies, który na początku nie potrafił pracować z człowiekiem, bał się różnych dźwięków, w szczególności petard, potrzebował roku, by nauczyć się slalomu...
Może komuś wyda się, że to niewiele, że dużo psów biega szybciej - ale my widzimy go, jak skacze z radości, gdy jest jego kolej na bieganie i widzimy, jak zapomina o walących w oddali petardach w chwili, gdy zobaczy piłkę i to jest naprawdę coś. I pamiętamy ostatniego Sylwestra, kiedy bojący się fajerwerków Flaszek siedział cały wieczór w swoim pokoiku, a teraz siedział z nami przy stole, mimo że ciągle trochę się bał. 
I patrzenie na niego, że jest szczęśliwy, wyluzowany, zwariowany, że szczeka domagając się piszczącej piłki NATYCHMIAST - sprawia, że wiemy, że była to najlepsza możliwa decyzja, żeby mieć w życiu takiego Flaszeczka ;). 
Tak więc teraz, w pierwszy dzień świeżutkiego Nowego Roku, życzymy Wam, żebyście w ostatnim dniu 2014 roku mogli spojrzeć za siebie i zobaczyli, jak długą drogę udało Wam się przejść i o ile bliżej jesteście do realizacji swoich marzeń.