It is really astonishing how every dog is different, even dogs of same breed and even dogs that are related. I've never seen Vigo in the stage of total puppy clumsiness, he was extremely agile already at the age of 8 weeks and then even more so. Brava on the other hand tripped on her own legs for some time and was quite slow in the beginning, but then she gathered speed and body awareness and actually she is much faster and can turn much better than Vigo (I think mostly because she has a tail).
---------------------------------------------------------------------------------------------------------------
To naprawdę niesamowite, jak psy się od siebie różnią, nawet psy tej samej rasy i nawet psy ze sobą spokrewnione. Nigdy nie widziałam Vigo w fazie szczenięcej niezdarności, był niesamowicie sprawny już w wieku 8 tygodni, a potem jeszcze bardziej. Brava z kolei początkowo potykała się o własne łapy i na początku była dość wolna, ale potem niesamowicie przyspieszyła i teraz jest i szybsza i bardziej skrętna od Vigo (przypuszczam, że głównie przez to, że ma ogon).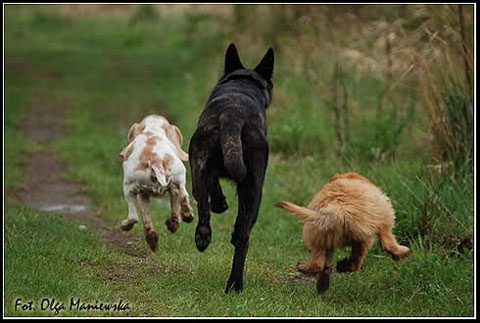 Now Brego... is weird. On one hand, he really moves nicely and is pretty fast already. On the other hand, he is sort of boneless chicken ;). a little bit too loose in this joints, sometimes falling over his head (like yesterday I tried to teach him entries on a FLAT dogwalk ramp and he FELL from it, doing somersault on the grass. WTF??? And that's a puppy who in the same time can manage to squize all 4 in a small pot, lift his side legs and negotiate puppy jumping grids really nicely.  And I was wondering whether it all might have something to do with him not eating in his first week of life, like in the beginning he had really strange coat like moth-eaten ;) (and now it's really nice and shiny). Maybe his muscles are developing slower because of this? It is definetely better now than a month before...
I also started working on exercise ball again (it's sort of our winter activity). It is difficult, I have a video of Brava doing it for the first time in her life and her legs were trembling after 30 sec. But Brego was not only trembling, he was slipping and his legs were splittting and he had problems just lying on it. 
So... first of all, I'm really curious how he will develop. 
Secondly, we will continue working on his prioproception and muscles through tricks, exercise ball and jumping grids. 
Thirdly, the decision to wait with teaching him running contacts until spring is hereby confirmed ;). 
-----------------------------------------------------------------------------------------------------------
Brego z kolei... jest dziwny. Z jednej strony naprawdę ładnie się rusza i jest już szybki. Z druiej strony trochę jest taki gumowy kurczak ;), jakby zbyt luźny w stawach i czasami fika koziołki (na przykład wczoraj przyszło mi do głowy uczyć go wejść na PŁASKIEJ desce z kładki i on z niej ZLECIAŁ, po czym fiknął kozła przez głowę. WTF?? I zarazem jest to szczeniak, który potrafi włożyć cztery łapy do malutkiego rondelka, podnieść dwie lewe lub dwie prawe łapy i naprawdę ładnie radzi sobie na papisiowych gridach z treningu techniki skoku. Zaczęłam się ostatnio zastanawiać, czy jego brak mięśni nie ma jakiegoś związku z tym, że przez pierwszy tydzień życia nie dojadał - na przykład miał takie dziwne futro na początku, jakby go mole wygryzły (teraz ma już ładne i błyszczące). Te mięśnie mu się rozwijają, jest nieporównanie lepiej niż miesiąc temu. 
Zaczęłam też ćwiczenia na piłce (taka nasza standardowa zimowa aktywność) i to też jest rozpacz w ciapki. Mam nagraną pierwszą w życiu sesję Bravy, więc wiem, że to jest dla psa trudne - jej po 30 sekundach trzęsły się łapy. Ale Brego nie tylko się trząsł, ale też rozjeżdżał, spadał, miał problem, żeby w ogóle na tę piłkę wejść i na niej wyleżeć. 
No więc po pierwsze jestem ciekawa, jak on się dalej będzie rozwijał. 
Po drugie, ciśniemy dalej ze świadomością ciała i rozwojem mięśni poprzez sztuczki, ćwiczenia na piłce i puppy jumping grid.
Po trzecie, decyzja o odłożeniu nauki zbieganych stref do wiosny została niniejszym umocniona ;).