We had (and still have) some problems recently. First, we had a wonderful trip, but during that trip dogs (Sunday, Vigo and Brego) fell from a bunker in the woods (it looked just like a hill from the side we climbed it, but on the other side there was a little wall and then 6 meters down...) and Roman got injured running to get them (some stick got into his leg). Fortunately, nothing serious happened to Sunday and Brego and they are totally ok now, but Vigo broken his wrist ligament and will be operated soon. A couple of days later it turned out that Roman leg got seriously infected and it was really dangerous for a couple of days. Fortunately, the worst is over and I hope Vigo will also be fine in a couple of weeks maybe. So this is why I haven't been updating much recently. 
Brie left for his new home and I hope he will be really happy there :) All the puppies are doing great in new homes. Brego and Zookie still look like puppies from different litter, kids of hyena or black panther or tasmanian devil (Brava doesn't want to confess, though).
Check out this photo of Babou and Zookie: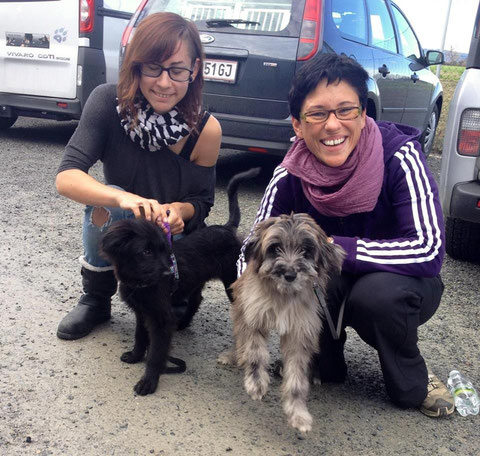 On the up side, Flaszek is weaving! Finally :) It took really long time with him (although we also didn't want to pressure much, so maybe it could be done faster), but he is doing it :)
Brego is growing... He's Brava's size now and seems big for his age, but well... we'll see. He seems to be trying to outgrow uncle Flaszek... but since I've seen some pretty cool pyrsheps running in large category, I'm not too worried. What will be, will be. We nickname him Miminko, which mean the little one, maybe it will work it's magic :).
He is learning really fast now, the initial problems with shaping and food motivation long gone. So far, we have perfect sit stays for his age, really nice drive and some tricks (like left / right, the frog, hand touch, sitting up, backing up and some others in the progress). We just started some puppy jumping grids, so I'm proudly presenting Brego's first ever equal distance grid: