Yesterday we went to Partynice to see an event called "Wrocławska Wiosna Psich Sportowców" which was promoting different activities with our four-legged friends, such as flyball, agility, frisbee and others as well as very serious stuff of search and rescue. We took Evo, Brava and Flaszek with us - so they can socialize a bit (well, Flaszek mostly), but as it turned out that the agility part was co-organized by our friends, we took part in it and run some jumping course. Olga lost her voice due to cold and she drank some syrup for cough which made her slightly err... less focused, so her run with Brava was a bit messy, Evo as usually did a great job and made sure everybody watched him for he was running as hell and barking all the way :). I Even Flaszek managed to run some sequence and he was actually faster and more confident than in Gliwice, so surly this all socialisation is paying off and he gets better and better :). 
In addition, we got some nice photos from Wojtek Dziadosz - see his website for more!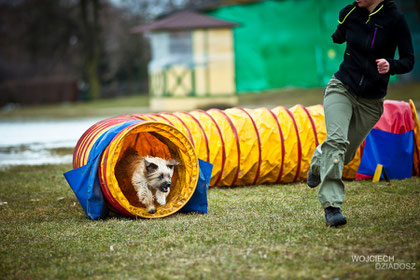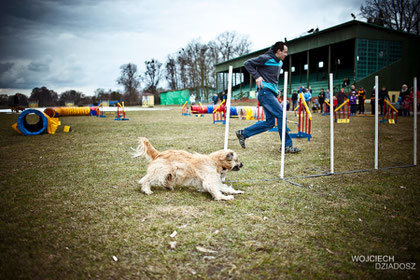 Wczoraj wybraliśmy się na Partynice obejrzeć Wrocławską Wiosnę Psich Sportowców, czyli pokazy promujące różne dyscypliny psich sportów, takie jak flyball, frisbee, agility, zaprzęgi, jak też poważne sprawy w rodzaju ratownictwa :). Zabraliśmy ze sobą Evo, Bravę i Flaszka na spacer i na socjal - okazało się, że część agilitową organizowali nasi znajomi z De Luks i mogliśmy wziąć udział w pokazach. Tak więc nasze pieski miały dodatkowy trening w rozproszeniach. Olga zaziębiona i bez głosu, na dodatek po jakimś otumaniającym syropie ;) więc z Bravką lekko były niedogadane, Evoczek zrobił jak zwykle show, tzn. zasuwał jak dziki i darł gębę, żeby czasem ktoś go nie przegapił :). Nawet Flaszek trochę pobiegał i dużo lepiej sobie radził, niż na zawodach w Gliwicach, tak więc cała intensywna socjalizacja procentuje :). 
I jeszcze się załapaliśmy na fajne foty Wojtka Dziadosza - więcej można obejrzeć na jego stronie :).